Are you wondering How To Harvest Rosemary? Here is a quick and easy guide so you can harvest delicious and fragrant rosemary, the RIGHT way!
Rosemary is a lovely and fragrant herb that originates from the Mediterranean. It is used in cooking, condiments, for health benefits, and body cosmetics such as creams and perfumes. It is defined as a perennial shrub with blue, tiny flowers.
Rosemary is highly fragrant, with a unique scent and flavour. It has been described as having a sweet resinous flavour with aromatic notes.
Rosemary is the perfect herb to grow at home because it is easy and versatile to grow. It goes perfect with dishes like chicken and deeper flavoured dishes such as beef stew or meatballs. 
Dry your freshly picked herbs in a herb drying rack for longer herb conservation!
Related Articles:
DISCLOSURE
Some of the links on here are affiliate links and I may earn if you click on them, AT NO EXTRA cost to you. Hope you find the information here useful! Thanks.
When Should I Harvest Rosemary? 
Typically, it would help if you waited until summer or spring to harvest your rosemary. This is because rosemary grows the most and the fastest during these months, so it is best to gather the rosemary when thriving.
This will mean that it will grow back fast once you have cut it because it is growing in the best climate. To make the rosemary grow even faster and higher in these months, trim the rosemary daily to encourage growth. 
Note– If you want to make your green fingers happier and your life easier, you can use this affordable 83 pieces ultimate gardening set to help you garden like a pro!
How To Harvest Rosemary 
To harvest rosemary, you must look at your rosemary bush and select which branches you would like to harvest. The branches you choose should be at least 8 inches long/high.
It would be best not to harvest newly growing rosemary because it will stint the growth of this particular rosemary branch. It is best to have many rosemary plants as you will always have mature and bigger branches to harvest.
Harvesting two to three branches at a time will be enough for one harvest. Any more, and you may stint the growth of the bush.
Once you have selected your rosemary branch, cut off the top 2 inches with garden shears or scissors. Leave some green leaves on the branch.
If you only want a small amount of rosemary, pick a few leaves off rather than cutting the whole plant.
Never harvest more than a quarter of your rosemary bush at one time. This will hinder its ability to produce more rosemary quickly, and it will not thrive as well as it previously was. 
How Long Does Rosemary Take To Grow Until It Is Ready For Harvest? 
In a short answer, it takes around a year for rosemary to grow from seed to full rosemary bush. However, if you are not planting from seed and using cuttings instead, it will take months rather than a year.
Rosemary seeds take up to three months to germinate in a warm, damp environment and are then planted in time for planting season.
They are slow to germinate compared to other seeds, so you need to grow them three months before the weather gets warmer. Allow the seeds to germinate inside until they are a few inches in height. 
Increase your herb seed germination rate by using a germination kit for strong and healthy seedlings!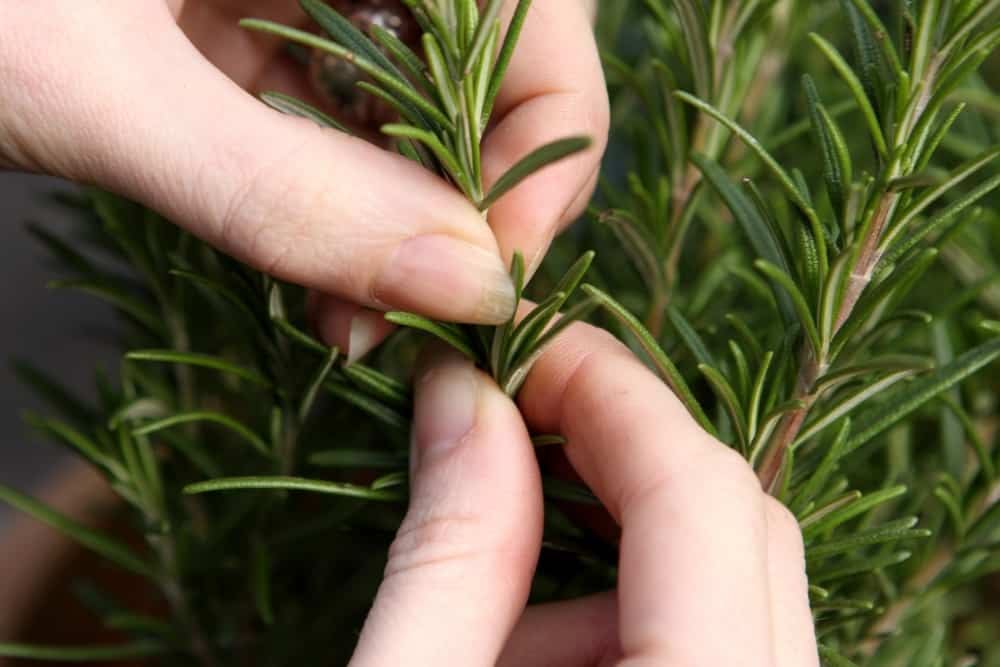 How Do You Care For Rosemary?
Rosemary grows in a Mediterranean climate and needs dry and sandy soil. Cactus mix may work well for rosemary. If you're using a pot, make sure it has good drainage and air circulation.
Terracotta is good for this. To care for your rosemary, make sure it has a lot of light. It needs the most bright, direct light that it can get, considering the climate that rosemary originates in.
Use porous terracotta pots for better soil drainage and air circulation!
You should water the rosemary plant when the soil is thoroughly dried out, which may take two to three weeks. Rosemary is versatile, though, so it will not die from not having water for a week.
When Do You Plant Rosemary?
It is best to germinate your rosemary seeds indoors three months before you want to plant them. It is best to plant them when the weather is warmed, in spring or summer.
Furthermore, it is more reliable to plant your rosemary from cuttings ratchet than seeds, as they are more likely to survive. Rosemary likes warm environments, so a soil temperature of 80f and above is perfect for the perennial. 
How To Store Your Rosemary
To store your freshly cut rosemary, you can either store them in the refrigerator in airtight bags or tubs, or dry them out, or even make rosemary oil/vinegar.
Drying your rosemary will ensure that it keeps longer and can keep for up to a year if stored properly. To dry rosemary, hang bundles of your fresh rosemary to dry at room temperature for at least ten days in a dark and dry room.
Placing a dehumidifier can speed up your herb drying!
This will make it easy to strip off the leaves and store them in an airtight container. You can keep these dried leaves for up to a year. To store fresh rosemary in the fridge, get your fresh sprigs and wash them.
Then, let them air dry to prevent dampness, and put them in an airtight bag or Tupperware. Store them in the fridge (or even freezer), and they will last for up to two weeks.
You can also strip off the leaves and freeze them in olive oil or water to create a type of stock cube for soups and casseroles. Putting fresh rosemary in a bottle of vinegar or olive oil is also great and will flavour the liquid for use in dishes or as a dip for warm bread. 
What Health Benefits Does Rosemary Have?
Rosemary has a range of health benefits. Rosemary has been proven to improve moods, fight diseases and pathogens, prevent infections, increase the production of red blood cells, and act as a natural remedy for an upset stomach.
The herb improves blood circulation, as well as memory, focus, and alertness. It has anti-inflammatory, antioxidant, and antibacterial properties, meaning it is brilliant to boost the immune system and the body's ability to fight and recover.
The Carnosic and Rosmarinic acids in rosemary have been studied and have antifungal, antiviral, and antibacterial properties. Rosemary can be used in soups, teas, and supplements to increase a healthy lifestyle. 
Final Thoughts 
Rosemary is a versatile herb with excellent health benefits as well as an aromatic flavour. It is easy to care for rosemary and extremely easy to harvest. If you harvest rosemary properly, it will grow back bigger and better, meaning you have fresh rosemary all season!