Are you panicking about how to save a dying tomato plant?
Maybe you have put in the time and effort to grow your tomato plant, only to see it die. 
Don't let your effort go to waste by following this quick and easy guide on how to revive dying tomato plants.
If you are new to gardening, try growing tomato plants!
They are popular because not only are they versatile in the kitchen, but they are also one of the easiest plants to grow.
When growing tomato plants, ensure that your tomato plants have the basic requirements: water, sunlight, and well-fertilized soil. 
However, as easy as it might sound, tomato plants are also vulnerable to many diseases and pests. 
In this guide, I will examine the common problems affecting the growth of your tomato plant as well as remedies on how to save tomato plants.
What's more? I have also included pointers on how to save a tomato plant subjected to various environmental issues. 
I also suggested growing tips to keep your tomato plant strong and healthy by preventing the potential problems that can plague your plant. 
Read on for these tips on how to save your dying tomato plant based on the possible causes.
How To Save A Dying Tomato Plant
1. Water Your Tomato Plants Correctly
2. Ensure That Your Soil Has The Correct pH
3. Do Not Expose Your Tomato Plant To Direct Sunlight
4. Ensure That Your Tomato Plant Is Exposed To The Correct Temperatures
5. Make Sure Your Tomato Plant Receives Sufficient Sunlight
6. Check For Root Rot
7. Check For Diseases
8. Check For Pests
9. Limit Damage During Transplanting
Affiliate Disclosure
The links on this page may be affiliate links, from which I earn a small commission if you click on them, AT NO EXTRA COST to you. I hope you find the information here helpful. Thanks!
Related Posts
How To Save A Dying Tomato Plant 
Why Is My Tomato Plant Dying – Diagnose The Problems Of A Dying Tomato Plant
When trying to identify the problems of a dying tomato plant, apply these steps:
Step 1: Identify which part of the dying tomato plant is affected – Is it the fruit, leaves, stems, flowers or roots?
Step 2: Compare your dying tomato plant to a healthy plant and note the differences – Look out for abnormal signs such as brown leaves or discolored fruits. 
Step 3: Check for insects or mites on your dying tomato plant – Find out the type of insects or mites in order to apply the correct treatment.
How To Save A Dying Tomato Plant
In this section, I will look into some of the common causes and remedies on how to save a dying tomato plant based on the possible signs. 
1. Water Your Tomato Plants Correctly
Possible Signs:
When you see your tomato plant leaves turning brown and curling, it is probably due to underwatering.
 Similarly, overwatering could lead to a wilting tomato plant with yellow leaves. This could cause the roots to rot and unable to take in water from the soil.
What to do:
In order to save tomato plants from wilting due to underwatering, try to retain water in the plant by adding mulch to the surface of the soil and compost into the soil.
 As for the case of overwatering, transplanting them to a pot with drier soil might help in reviving tomato plants.
2. Ensure That Your Soil Has The Correct PH
Possible Signs:
Blossom rot appears as a dark bruise forming on the bottom of your fruit while the plant will appear healthy. This happens when the soil pH is incorrect and the calcium level is low, preventing the plant from taking in nutrients.
What to do:
Check the soil pH with a test kit. When soil pH is too high, you could mix sulfur into the soil. Conversely, add lime to the soil when you have low soil pH. Adding crushed eggshells to the soil will increase the calcium level.
3. Do Not Expose Your Tomato Plant To Direct Sunlight
Possible Signs:
Tomato plants wilting and dying could be due to high temperatures. Also look out for sunscalds on the part of the fruit facing the sun. Your tomato plant might be having sun stress when the temperature goes beyond 95° F due to the intense sunlight. 
Not only will the plant wilt, the fruit will also stop developing and the leaves turn dry. The intense heat causes moisture loss in the plant and soil.
What to do:
During the hottest time of the day, ensure that your plant is shaded and well-watered. Water the soil and add 2 to 4 inches thickness of straw mulch on the surface. This helps to trap moisture in the soil and revive the plant.
4. Ensure That Your Tomato Plant Is Exposed To The Correct Temperatures
Possible Signs:
When you have extremely low temperatures, wilted fruits and plants could turn black due to the freezing of the tissues.
What to do:
Instead of touching the plant, let it thaw by itself. After a few hours, if the thawed leaves and seedlings have blackened, the plant is unrecoverable. Growing your tomato plants in high grow tunnels will provide protection from cold, frost and hail during winter. 
Check out this post to find out more about growing tomato plants in cold weather.
5. Make Sure Your Tomato Plant Receives Sufficient Sunlight
Possible Signs:
Insufficient sunlight will cause your tomato plant's leaves to wilt and drop. Their growth will be stunted, making them susceptible to pests and diseases. They are also not able to produce fruits.
What to do:
Relocate your plant to an area with at least 6 – 8 hours of sunlight daily. Monitor the conditions of the leaves for signs of recovery.
6. Check For Root Rot
Possible Signs:
When your tomato plant is experiencing a downward leaf curl, check the roots for signs of root rot. 
What to do:
Unfortunately, it is almost impossible to revive a root-rotted tomato plant. The proper treatment is to discard the plant completely and sterilize your tools. 
Refrain from planting new crops in the affected area of your garden. This will prevent the spread of any potential infections.
The main cause of root rot is improper irrigation, especially during the rainy season. Make adjustments to your watering schedule to prevent such problems.
7. Check For Diseases
Possible Signs:
Tomato plants dying from the bottom up could be an indication of soil-borne diseases. 
What to do:
There is little chance that tomato plants will survive diseases attack. Make sure to discard the plant completely and sterilize the tools. 
8. Check For Pests
Possible Signs:
This is commonly presented as tiny bugs hiding on the undersides or chewed holes on leaves. Tomato pests can spread diseases and destroy your tomato plants in a short time. They usually attack the fruit or leaves and hence you should inspect your tomato plant leaves regularly. 
What to do:
You can kill most pests with neem oil or insecticidal soap. Larger pests such as hornworms could be removed by hand.
Read this post for tips to find out how to protect your tomato plants from being eaten by pests and animals.
9. Limit Damage During Transplant
Possible Signs:
Bent or broken branches and stalks could occur after transplanting. The leaves will also show signs of wilting and dying when the transplanting is not done properly.
What to do:
Give it a few days to recover. It is common for plants to experience transplant shock as they need time to adjust to their new habitat. To increase the survival rate of your plant, provide support to it with twine. 
How To Maintain Your Tomato Plant And Keep It Strong And Healthy?
I have added some tips to guide you in maintaining your tomato plant and keeping it strong and healthy. Essentially, plants require the five key elements for survival: light, air, water, nutrients and space. 
Refer to this article for further reading:
1. Plant It In The Right Location
The ideal location should expose the tomato plant to 6 to 8 hours of sunlight daily and shelter it from strong winds. Never plant it close to a walnut tree. The toxin produced by the tree will kill your tomato plant by spreading to the soil.
Give these organic, Non-GMO, Open-pollinated seeds a try to harvest your tomato plants!
2. Appropriate Amount Of Water
Consistency is the key here. You should only water your plant when the top soil is slightly moist and dry a few inches down. Water it with 2 inches of water each time.
3. Appropriate Temperature
A temperature range of 70 – 85° F is ideal for your tomato plant. Choose the right season to grow your tomato plants. 
Another alternative is to germinate and allow the seedlings to grow indoors while waiting for the spring to begin. They can be transplanted outdoor once the temperature is ideal. 
Now you can enjoy tomatoes all year round with an indoor grow tent. It's so quick and easy to set up!
You may refer to this post for recommendations for seed starting kits.
4. Well-Fertilized Soil
Prior to planting, fertilize the soil. Reapply during fruit setting and repeat every 2 weeks. It is recommended to use commercial tomato plant fertilizers, seaweed fertilizers, or compost. 
Here are some recommendations for fertilizers.
5. Correct Soil pH
Maintaining the correct soil pH is crucial for the tomato plant. This should be kept at the slightly acidic range of 6.2 – 7.0 and you can buy a soil test kit to monitor the pH yourself.
6. Check For Pests
These are some of the common tomato pests to look out for:
Tomato HornWorms
Cutworms
Aphids
Red Spider Mites
Whiteflies
American Bollworm
Nematodes
Stalk Borers
The common diseases include tomato blight, corky root rot, verticillium wilt, fusarium wilt, root knot nematode, black dot, and root rot.
8. Prevent Damage During Transplanting
Be careful not to cut or tear the root during the process of transplanting. Place a layer of protection such as newspaper over the plant until they have adjusted to the heat outdoor.
9. Plant Resistant Varieties
The most common tomato diseases are verticillium, fusarium and nematode. Here is a list of disease resistant varieties that will resist these diseases:
Big Beef
Bush Big Boy
Bush Early Girl
Celebrity
Fourth of July
Supertasty
Sweet Tangerine
Umamin
10. Practice Crop Rotation
Avoid planting your tomato plants in the same area. Rotate them into a separate patch of soil for a year. This prevents the spread of fungi or bacteria. 
11. Use Fungicides When Required
It is a good practice to spray fungicides when the plant reaches a height of about 10 inches. Repeat the spraying every 1 to 2 weeks to prevent any potential diseases.
FAQs on Dying Tomato Plant Tips
How Long It Takes For A Dying Tomato Plant To Recover?
Ever wondered about how long it takes for a dying tomato plant to recover? If the cause is due to nutrient deficiency, you might see signs of recovery within 5-7 days. Tomato plants recover more slowly when the transplanting method is used for revival. This could take a longer time to see results. 
Why Is My Tomato Plant Dying After Fruit?
You must have wondered, after so much hard work, why is my tomato plant dying after fruit? It could have suffered from fruit overload. You need to harvest the plants on a regular basis to prevent this. A plant overloaded with too many tomatoes will stop producing fruits.
How To Save My Tomato Plant From Frost Damage?
Worried about how to save my tomato plant from frost damage after sudden overnight snowfall? Frozen tomato plants and fruits cannot be brought back to life. For mild frosting, it might be possible for the tomato plants to recover. In order to do that, spray them with water and prune the frozen part right away.
Can I Still Eat The Fruits From A Dying Tomato Plant?
Before you eat the fruits from a dying tomato plant, check the conditions of the fruits. If the fruits are not showing signs of discoloration then they are still safe for  human consumption. Fruits with discoloration might be plagued by fungus. If lesions are found on the fruit, cut them away before eating.
Can A Dead Tomato Plant Come Back To Life?
So, can a dead tomato plant come back to life? No, it is almost impossible to revive a dead tomato plant. Try transplanting as a last resort but there is little possibility that it will grow into a healthy plant.
Why Are My Tomato Plant's Leaves Dying?
Possible causes for tomato plant's leaves dying include environmental issues, such as a lack of water, too much water, poor soil and too little light. Other possible reasons are fungal wilt diseases, tomato spotted wilt virus, walnut toxicity and stalk borers.
Can Overwatered Tomato Plants Recover?
Many people have asked can overwater tomato plants recover? Yes, tomato plants can make a full recovery from overwatering. They will recover if appropriate actions are implemented in time. Lay out the soil and roots on newspaper to dry the wet soil. Alternatively, transplant them to soil with the right amount of water.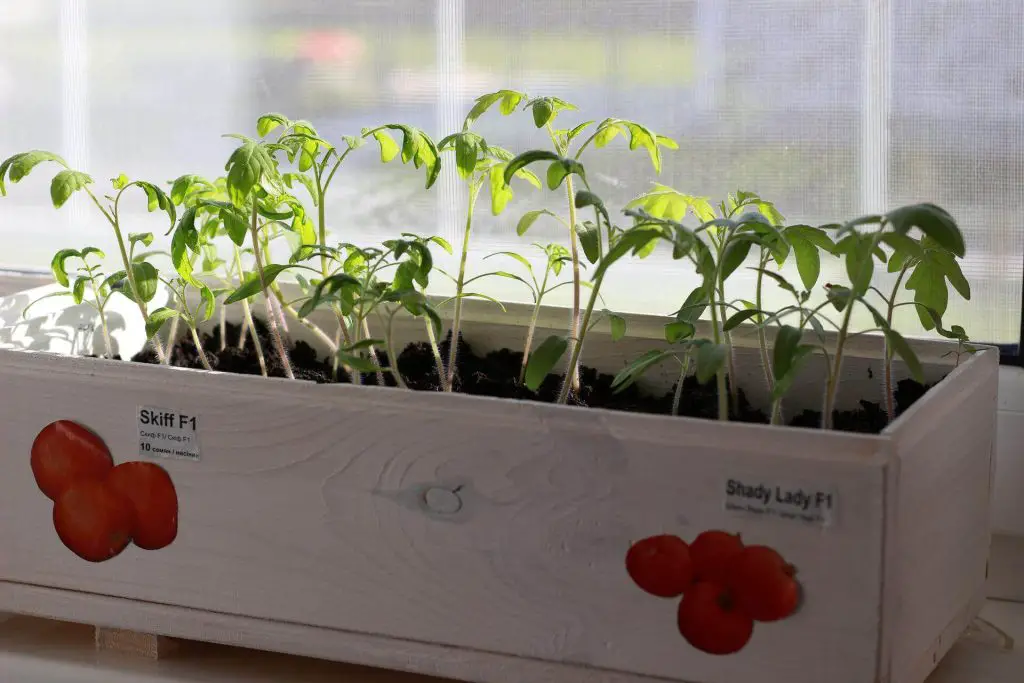 Conclusion
I hope that this guide offers helpful and practical tips on how to save dying tomato plants. 
The first and foremost step should be to identify the problem(s) affecting your plant. Thereafter, look for the solutions and apply them.
Even if your plant is strong and healthy, it is always good to take active steps to prevent your tomato plant from developing any problems. 
It is best to equip yourself with the information on how to revive a dying tomato plant.
Congratulations if you have successfully rescued your dying tomato plant! Otherwise, please don't feel discouraged. 
You can always start afresh and grow a new tomato plant. 
This time you should have more experience in how to revive tomato plants and ensure that your plant grows healthily.
Good luck and never give up on saving your tomato plant! Lastly, thank you for reading my tips on how to save a tomato plant.
How To Save A Dying Tomato Plant