Are you wondering What Size Grow Bag For Tomatoes is best for your tomatoes? Here is a quick guide to keep your tomatoes happy and healthy!
You can't beat the taste of fresh tomatoes that you've grown yourself. The benefit of this fruit – not vegetable – is that they are super easy to grow in your own greenhouse.
One of the best ways to grow tomatoes is to use a grow bag. This is because you can use fresh compost each year, and you won't have to worry about any disease or pests building up over the years.
You can also use this compost in other areas of your garden once you've finished using it to grow your tomatoes.
However, if you're new to growing tomatoes in grow bags, it can be confusing knowing which size is best for tomatoes. How large a grow bag will your tomatoes need to get the nutrients they require to grow healthy and strong?
Related Posts:
How Big Should A Grow Bag Be For Tomatoes?
Ultimately, the larger the grow bag, the better it will be for your tomatoes. You should opt for a standard 35 to 40 liter or 10 gallon grow bag as an absolute minimum for your tomatoes.
When determining what size grow bag for tomatoes you need to factor in the room for their roots to grow.
Your tomatoes will need all of the nutrients that these larger grow bags are able to offer them. If you were to opt for an even larger capacity grow bag, this will be more beneficial for your tomato plants. 
A 10 gallon bag will be ideal for a single tomato plant.
This should give it all the nutrients it needs to produce tasty fruit. These will give you the 15 inches in diameter and 12 inches or depth you need for healthy tomato growth.
If you want to grow more than a single tomato plant in your grow bag, then you will need to opt for a larger bag of between 20 to 30 gallons. This should give you a depth of at least 14 inches so that the roots can fully establish themselves.
It will also be important to water your tomatoes in their grow bag so that they get the nutrition they need. It will always be best to water your tomatoes evenly and regularly so that they get the right amount of water they need.
Are Grow Bags Deep Enough For Tomatoes?
Yes, grow bags are deep enough for tomatoes to grow. If you were in any doubt as to whether your chosen grow bag gives your tomatoes sufficient growing room, we'd suggest using it with a growing ring. This can be pushed into the compost of your growing bag, and then you can plant your tomato plant in here. 
You will need to purchase additional compost to fill the ring so that you can properly plant your tomatoes. Using a growing ring can increase the amount of compost that your tomato plant can place its roots in, which will in turn increase your yield of fruit at the end of the growing season. 
You can also plant companion plants in this growing ring alongside your tomato plant, such as marigold. This can keep away pesky pests such as whitefly from your tomatoes. Companion planting can help to save your tomato plants from being decimated by pesky insects.
Note– If you want to make your green fingers happier and your life easier, you can use this affordable 83 piece ultimate gardening set to help you garden like a pro!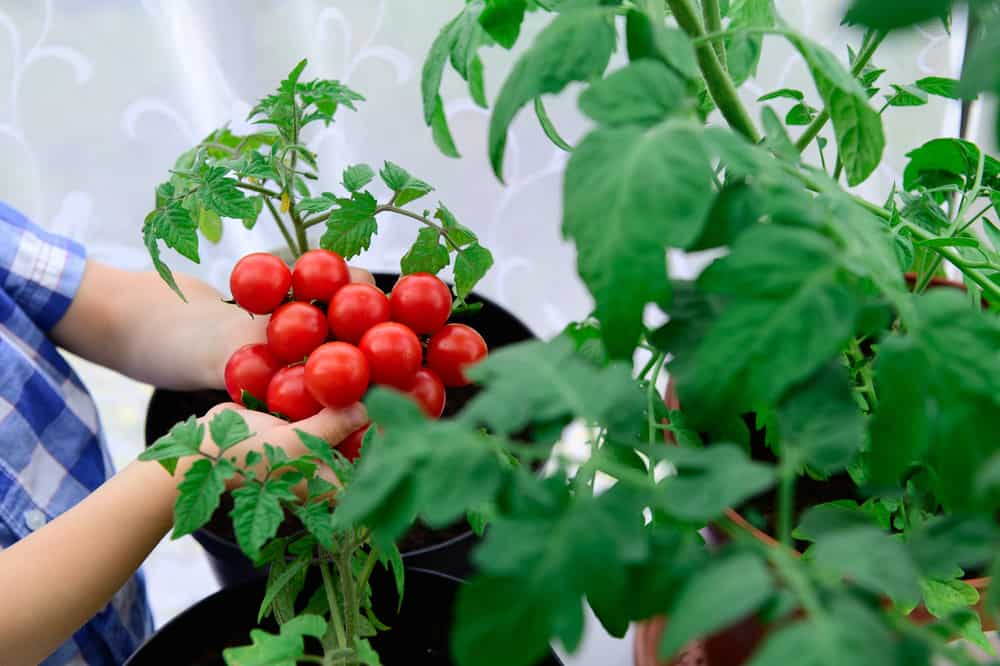 Is A 5 Gallon Grow Bag Big Enough For Tomatoes?
Depending on the size of your tomato plant, a 5 gallon bag is unlikely to be big enough for growing tomatoes. This is because in order to grow a healthy plant, it will need a minimum of 10 gallons in order to fully establish its roots and get the right amount of nutrients. The larger the grow bag you have for your tomatoes, the better.
If you have a smaller tomato plant, then you might be able to get away with a smaller 5 gallon bag. However, if you want the best from your tomato plants, we'd suggest always opting for a larger grow bag so that it can grow big and strong.
If you have a smaller grow bag in place, your tomato plant won't be able to produce as much fruit as it would be able to if it were planted in a 10 gallon grow bag.
Do Tomatoes Grow Better In Pots Or In The Ground?
There are benefits and negatives to planting tomatoes in both grow bags, pots, and in the ground. If you're new to growing tomatoes, you may be wondering why people will opt for container planting instead of planting tomatoes directly into the soil of your backyard.
It's true that there are advantages to planting directly into the ground. Your tomatoes will need less maintenance, as they will get pretty much all the nutrition they need from the earth. These plants are also less likely to get any diseases which could harm the plant, and will likely produce an even better harvest. 
However, you will need to maintain the ground they are grown in if you continue to grow your tomatoes in the same spot. This will include replenishing the soil so that it can gain back those nutrients that your tomatoes will have used over the years.
Not everyone has a patch of earth ready to plant tomatoes in. This is a fruit that's often grown in greenhouses, too, so that they can get the right growing conditions.
This is where containers and grow bags will come in handy, as you can easily place these into a greenhouse with a concrete base. You can also use new compost each year, so your plants will get the nutrients they need.
However, tomato plants that live in pots and grow bags will need to be watered more frequently. You will also need to get the balance of moisture just right to prevent the compost from drying out, which can cause stress for your plant or even encourage disease.
In Summary
So there you have it! The best size grow bag for tomato plants will be as large a grow bag as you can find. If you're growing a single tomato plant, then a 10 gallon grow bag will be ideal. For more than one plant, you should opt for a 20 to 30 gallon grow bag.
Well, there you have it, all the answers to your question, What Size Grow Bag For Tomatoes? Hopefully that helped but if you want more info, we found you a video below!